Quality assurance through rigorous quality inspection
The Quality Assurance Dept. is completely independent of the Manufacturing Dept. and manages and operates appropriately through a quality assurance program covering the entire process from receipt of order to delivery of product.
In particular, we have established a quality assurance system based on ISO9001 to ensure the delivery of high-quality products that satisfy our customers.
Quality Policy
1.

We will listen to our customers' requirements and strive to further improve our technology, quality and service.

2.

We will strive for daily improvements and thorough implementation of 5S, based on our proactive approach.
(Proactive approach: Acting assertively and on one's own initiative, pressing ahead decisively and boldly)

3.

We will promote "information sharing" and create a workplace where daily activities are done "systematically".
April 1, 2020
MITSUI MIIKE MACHINERY CO., LTD.
Chief of Headquarter, Fine-Blanking Industry Div.
Mitsuyoshi Kakino
Inspection system aimed at perfection
Pressing that does not cause defects
During production, we conduct thorough intermediate inspections for each specified quantity.
Our thorough quality control to prevent defects from occurring in the pressing process always generates products that satisfy customers.
Quality assurance through rigorous product inspection
The Quality Assurance Dept. conducts consistent quality inspections throughout the entire process from pressing to delivery.
We have in place a thorough quality management system to ensure that the products we deliver fully meet the performance required by our customers and the appropriate standards.
Only quality products are delivered to customers
Once all processes are completed, the Company's Delivery Inspection Dept. conducts rigorous inspections of the finished products.
In addition to a visual inspection, a thorough product inspection using a dedicated inspection machine ensures we deliver quality products only.
Tracking and production control between processes using our proprietary system
Our original system using QR codes enables speedy, clear tracking and progress monitoring between processes.
Please be assured that our production management department is committed to ensuring a thorough performance from pressing to product delivery and post-delivery traceability.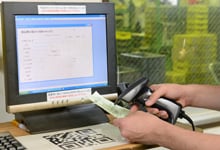 If you have any inquiries about our products, please feel free to contact us.
Request a Product Catalog