Power Transmission
Electric motor/Power Generator
Our electric motors and power generators are custom-made to meet the diverse needs of customers by leveraging our proven technological capabilities underpinned by 100 years of experience.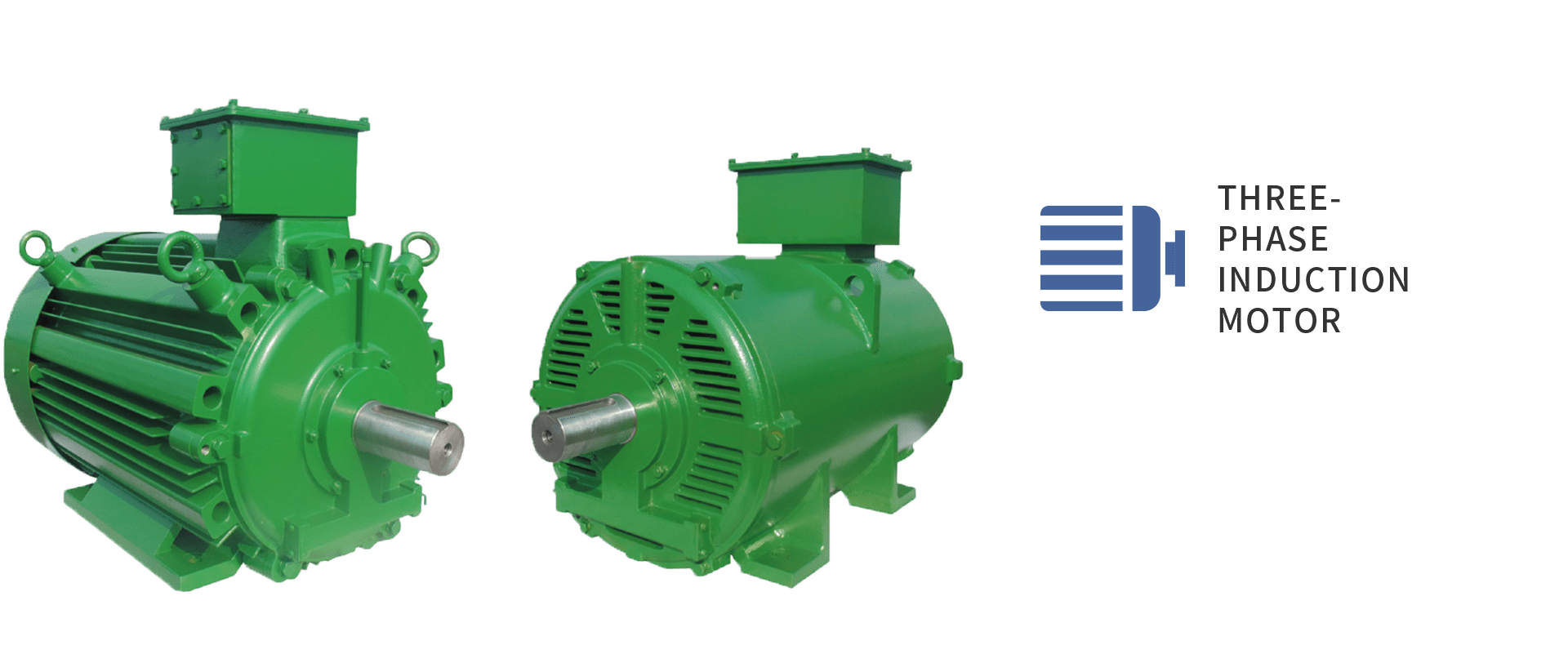 Overview
The Company produced its first electric motor in 1910. For over a century since then, we have built a strong track record in a variety of fields, including material handling machinery, excavating machinery, and construction machinery derived from mining machines, as well as fans and pumps. In recent years, we have also been making efforts to reduce environmental impact. We developed a top-runner motor that meets energy conservation standards and a power generator for a small hydroelectric power generation system, which is attracting attention as a green energy source. Our aim is to contribute to the creation of an affluent society capable of sustainable development by reducing CO2 emissions and taking other steps.
Features
Feature 01
Top runner motor and low starting current
Our motors, while satisfying the IE3 efficiency standard, achieve a low-starting current thanks to the our proprietary three-phase cage technology that enables direct starting even in cases that conventionally required a start compensator. This has resulted in a significant lowering of the cost of equipment at the receiving end as well as a reduction in CO2 emissions due to energy conservation through enhanced efficiency. It is also possible to replace an existing general-purpose motor with an IE3 motor without changing the equipment on the receiving side.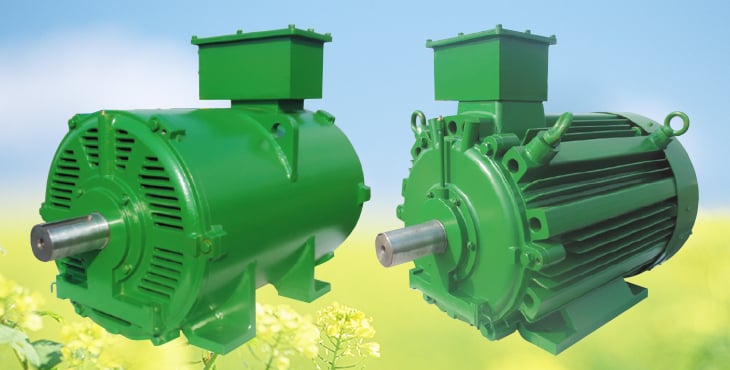 Feature 02
Optimum torque setting according to the load
The torque of the load varies depending on the equipment that uses the motor. We accommodate customer needs by proposing the optimum output and torque, such as a decreasing torque for fans and pumps, a constant torque for conveyors, and a heavy load torque for excavating machines. By so doing, we make it possible to optimize and downsize the entire equipment, which leads to reducing the cost of the equipment as a whole.

Feature 03
Compatible with a wide variety of models
We have a history of production in a variety of environments, specifications, and shapes achieved through leveraging our technologies derived from mining machines.
Even when specifications cannot be fully met with a general-purpose product, we can manufacture custom-made products according to the purpose and application.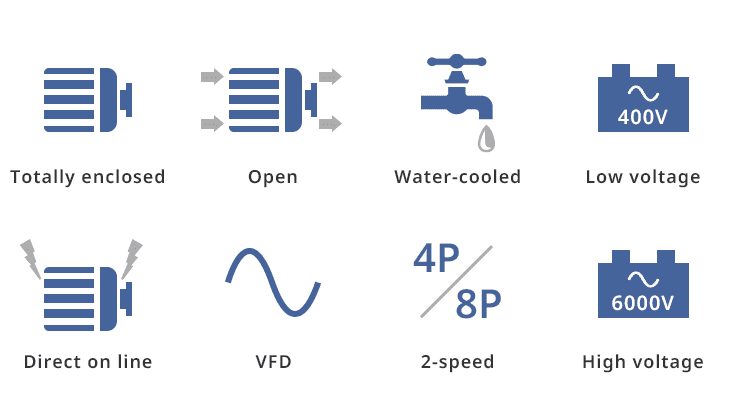 Feature 04
Promoting downsizing of devices on the receiving side
The starting current is approximately 4 times the rated current, and this is significantly smaller than that of a general electric motor which is 6 to 8 times the rated current. This enables resource-saving and cost reduction in terms of the following:
Reduces the volume of power distribution equipment
Output of the motor can be increased even in existing facilities
No need for starting via the reduced voltage method (Korndorfer or reactor), making the device compact
Low starting current reduces the cable size for long-distance wiring, etc.
Use of a starting device can roughly double the starting current equivalent to that of the winding type
Low starting current is advantageous for preventing flicker

Removal of the Korndorfer starter plate as a result of replacing the Korndorfer start with the direct-on-line start
Power Generator
We manufacture power generators to produce electric power from natural energy sources such as river water. Our power generators are specifically designed for each power station in line with the energy of the river and the environment of the facility and can be operated in a highly efficient manner with a high power factor.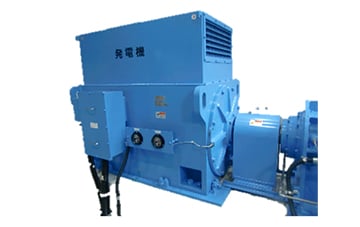 Examples of Products Manufactured
Delivery to local governments, etc.
The characteristics of our electric motors—low starting current and ultra-high efficiency exceeding JIS standards—eliminate the need for a starter panel. This contributes to significantly lower costs achieved through reducing not only construction costs (equipment cost and electrical room area) but also running costs.
In addition, since our power generators make it possible to lessen environmental impact by cutting CO2 emissions, they have been adopted by many municipalities that are implementing initiatives to reduce total CO2 emissions.
If you have any inquiries about our products, please feel free to contact us.
Request a Product Catalog