Fluid Machinery
Small Hydroelectric Power Generation System
We provide equipment needed for small hydroelectric power stations.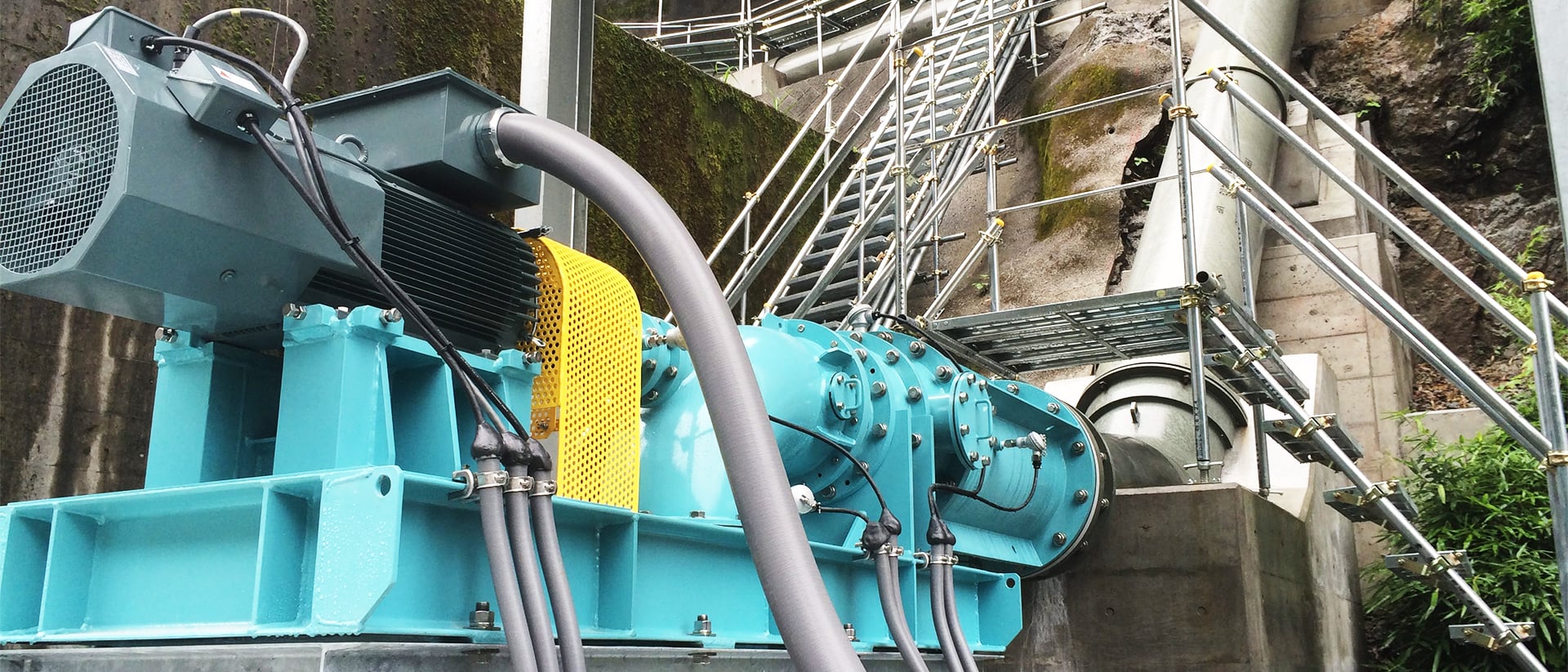 Overview
We have been working with water throughout all the years since our company's founding as a repair and manufacturing factory for coal mining equipment, starting with our technology for transporting underground spring water. Utilizing the techniques we have developed to date, we now possess manufacturing technologies for water turbines, generators, control equipment, and more. In addition, our small hydroelectric power generation systems contribute to the creation of new energy, from improving efficiency using fluid analysis technology to building control systems that meet specific needs.
Features
Feature 01
Providing key equipment in-house
In the field of small hydroelectric power generation (especially below 2,000 kW), we have the comprehensive capability to manufacture all the necessary equipment for power plants in-house, including water turbines, generators, control devices, and gearboxes.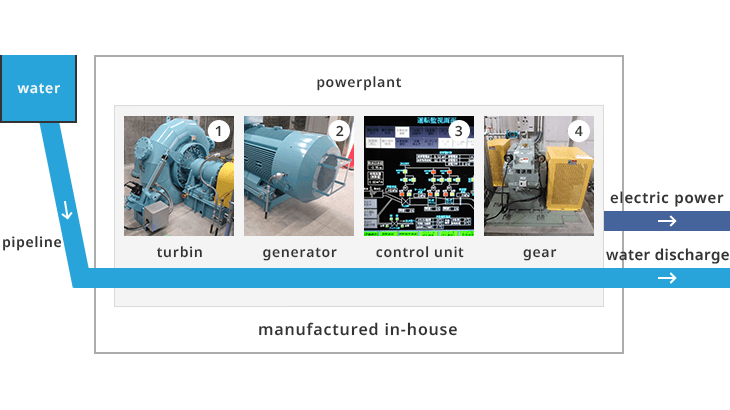 Feature 02
Providing high-efficiency water turbines
We have been involved in the fluid machinery field for many years since our foundation in 1882. For small hydroelectric power generation systems, we are able to manufacture highly efficient water turbines by combining the technical capabilities we have cultivated through years of experience with the latest numerical analysis technology.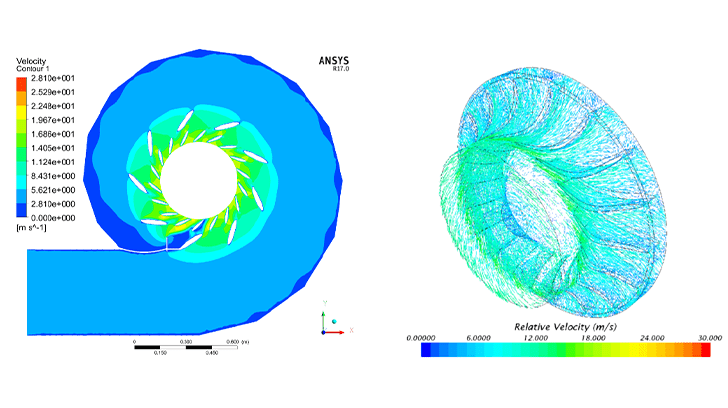 Feature 03
Developing custom-made products
The power output of a hydroelectric power generator depends on the flow rate and the head, so we manufacture custom-made water turbine generators according to the planned site. We deliver products that will generate the maximum amount of electricity according to the customer's plan.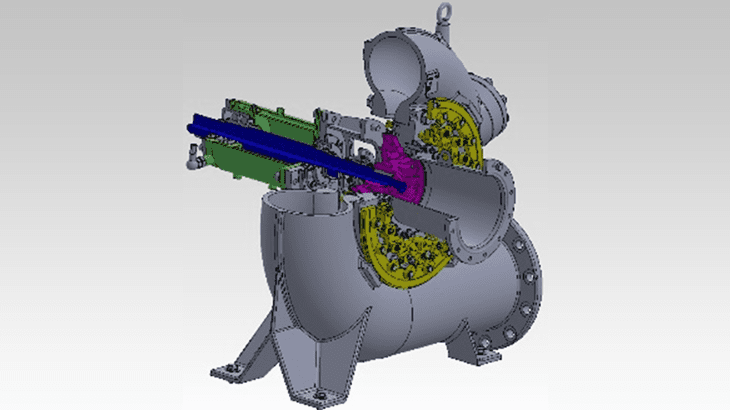 Types of Water Turbine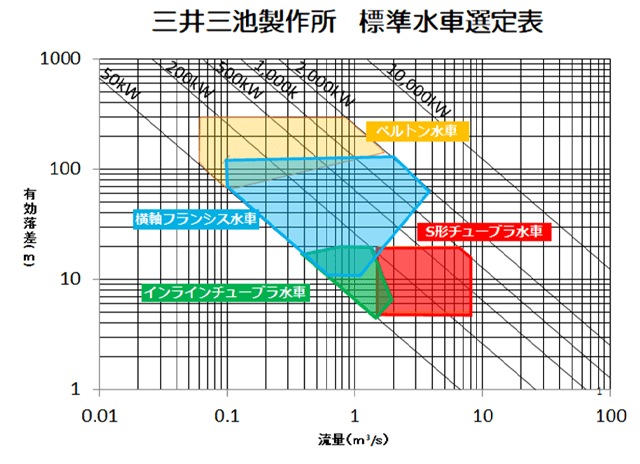 There are various types of water turbines used for power generation to suit different flow rates and heads, depending on the terrain, and the water turbine that can perform optimally in that terrain is selected for power generation.
We can manufacture horizontal shaft Francis turbines, tubular turbines, and Pelton turbines.
We also deal with water turbines other than those listed in the selection table, and can handle output of over 2,000 kW.
Francis turbines
The structure of these turbines allows an impeller (runner) inside to be rotated by the pressure of flowing water. Suitable for a wide range of flow rates and heads and simple in structure, they are used in approximately 70% of hydroelectric power plants in Japan.
Features
Can be used for a wide range of flow rates and heads
Easy to maintain due to its simple structure
High operating efficiency close to the maximum operating flow rate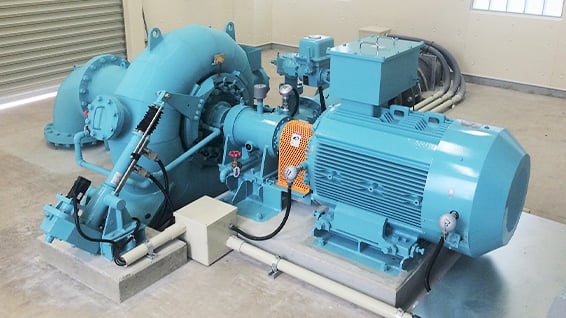 While the specific speed range of a Francis turbine is generally set to about 100-300, we have introduced numerical analysis technology into the design of our own turbines, enabling them to handle a range of low specific speeds that would normally not be selected.
Tubular turbines
Tubular turbines are cylindrical with their runners and generators arranged in a straight line.
There are two mechanisms installed inside the turbine: a runner vane that converts the energy of flowing water into rotational energy, and a guide vane that regulates the flow rate of water.
Features
Ideal for power generation at sites with a large flow and low head, such as for agricultural water
Can be connected to a high-capacity generator by installing the generator externally (S-shaped tubular)
Generator can be mounted on the turbine for a more compact arrangement (inline tubular)

Pelton turbines
Pelton turbines rotate by a jet of water from a nozzle hitting a series of spoon-shaped buckets arranged around the edge of a wheel.
Features
Ideal for power generation at sites with a low flow and high head
Applicable for a head of 100m or more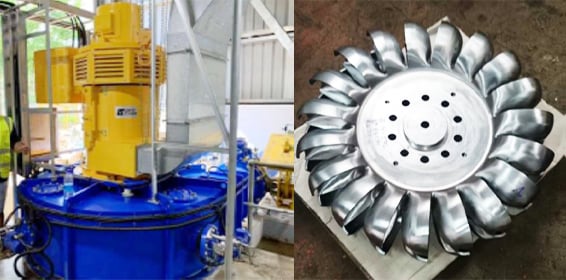 We also import water turbines made overseas, and can handle various water turbines other than those mentioned above.
Case Studies
Development of an efficient, small hydroelectric power generation system
In response to a request from Kyushu Hatsuden, which engages in small hydroelectric power generation projects in the Kyushu region, we undertook the development and introduction of a small hydroelectric power generation system for a new power station scheduled for construction. We succeeded in creating an environment that could generate approximately 5% more power than the amount our customer had planned, while assuring rapid response in the event of an unforeseen situation.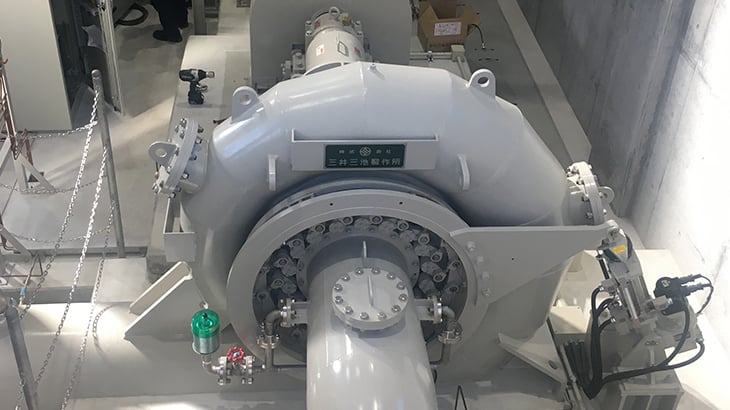 Installation Process
We offer custom-made products to meet customer needs, taking into consideration the application and environment of use.
Product availability: 18-24 months

Field survey

Design

Explanation and approval of design documents

Manufacture, assembly, quality inspection

Installation

Operation
If you have any inquiries about our products, please feel free to contact us.
Request a Product Catalog