Since its foundation in 1882, Mitsui Miike Machinery has been constantly improving its technology and manufacturing machines for the infrastructure that is an essential part of society and people's lives. In various industries such as electric power, steel, and civil engineering and construction, our strength is being able to thoroughly manufacture in more than a hundred ways to meet the needs of our customers, and our products are characterized by their durability and longevity.
In recent years, we have strengthened our efforts toward a decarbonized society by developing and manufacturing small-scale hydroelectric power generation facilities, wind power generation gearboxes, and storage and transportation equipment for woody biomass power plants, and developing business in the renewable energy field. In the process, we have also promoted the use of smart factories that improve productivity, such as by promoting 3D design and automation through the introduction of manufacturing robots.
Our aim is to keep our customers' trust and patronage in spite of the rapidly changing business environment, and so we will continue to make products that deliver high quality and customer satisfaction. We look forward to your continued support and loyalty to the Mitsui Miike Machinery Group.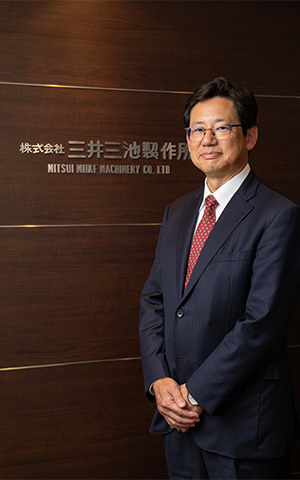 President and Representative Director
Motohiko Nakamura